Welcome
Santa Cruz Mountains Pinot Noir & Syrah From Our Vineyard In The Sky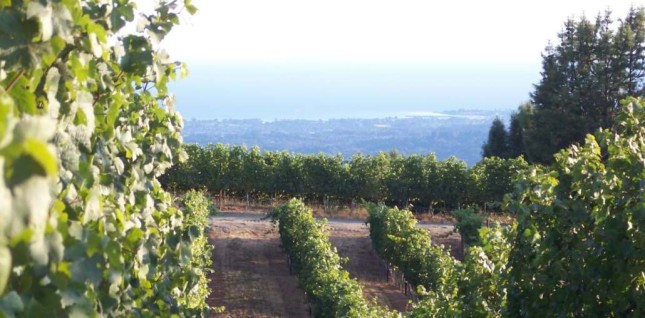 Muns Vineyard brushes the sky on a ridge above Monterey Bay at 2600 feet.  This is the highest Pinot Noir vineyard in the Santa Cruz Mountains, a prime growing region for this luscious winegrape.  We enjoy the coastal climate of the mountains, with fog lapping at our feet in the summer. The cool coastal breeze that blows off the fog and sunlight are perfect for growing premium Pinot Noir.  Moderate days and cool nights, along with diligent personal attention in our 13-acre owner-operated vineyard, produces fruit with rich and complex flavors.  We have blended Dijon clones 114, 115, 667 and 777 to provide a fruit-forward, complex and well-balanced wine.
Minimal intervention in the winery allows our unique terroir to shine. Barrel aging in 30% new oak for about 16 months adds soft tannins that accentuate, but not dominate, the beautiful fruit in this special wine. The wine drinks well now and is a delicious complement with food, and will bottle-age for years to come. Enjoy 'heaven-in-a-bottle' from our ridge top vineyard above the bay! 
Our Wines
For more information and to purchase our wines, click here.

What's Happening in the Vineyard: Winter

The vines are dormant for the winter, but with warmer Spring weather they'll start to awaken. In the mean time, there is still lots to be done. The cover crop is greening and growing from all the rain. So far we have had x" this winter! Gophers are an ever-present pest and need to be trapped (Pinot, our gopher patrol, likes to monitor the traps). There is clearing to be done around the vineyard. And soon, the crew will rough prune the 16,000 vines in the vineyard, cutting off most of the growth down to the first wire. This will make it easier to extricate the canes from the wires without damaging the rest of the vine on the cordon.
The nights have been cold (sometimes getting down to below 30 degrees); the days averaging between 40 and 50. We haven't seen snow flurries yet, which usually occurs sometime during the winter. The vines are dormant and can withstand the cold – until they start to bud out in another couple of months. Last year at this time it was warm and precipitated early budbreak. It remains to be seen what the next couple of months will bring, but the forecast is for a wet Spring.  We want the rain, but just not during bloom when it can inhibit the flowers from fertilizing and thereby prevent the grapes from forming. We hope that Mother Nature will be kind.
See more on our Vineyard page here.